The Isle of Man's very first Eco-brick chair, built by many of our children at Cronk y Berry School!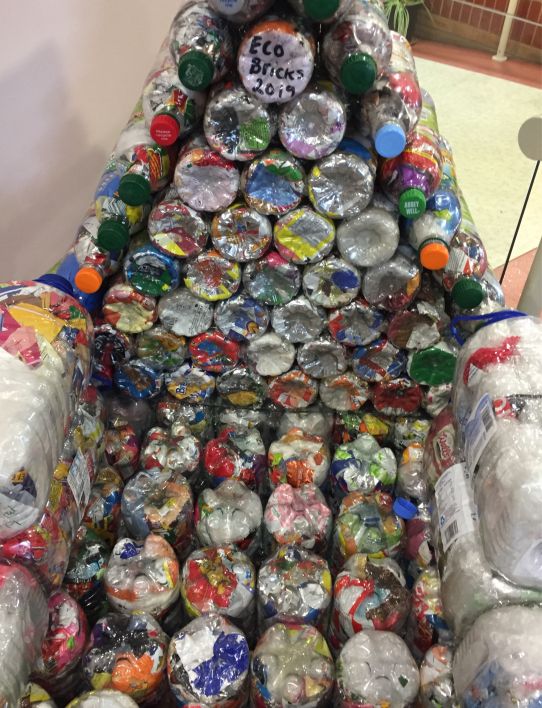 This Eco Brick Bottle Chair has been made from: 129 plastic bottles and

23,509 pieces of single use plastic !
Our children have connected with the harmful damage that single use plastic causes to our wildlife and countryside and the importance of how to reduce , reuse & recycle.
Sandy from the Manx hedgehog conservation society led an all day Eco Brick workshop with the children of Cronk Y Berry school in July 2019 and produced many of the eco bricks for this chair and for rest. Children from other schools also made some of the bricks, including St. John's School.
The children wrote heartfelt messages on many of the single use plastic pieces prior to them being placed into the eco bricks. These are our thoughts about the importance of respecting our planet and taking more responsibility for the way we discard our waste.
In August 2019, Langness Maintenance and Manx Hedgehog Conservation Society teamed up and assembled the chair by attaching the bottles together. It was unveiled at the Royal Manx Agricultural show in August 2019.
This was an educational & inspiring exercise for everybody involved and the chair in time will be a piece of history as we wish for the bottles to remain closed for the next 50 years. Upon opening the bottles in the year 2070, our harmful plastic will be examined and our reasons for making the chair and raising awareness of the drive against single use plastic will be observed.
Thank you to everybody involved in this project.